EOS® Books for Everyone in Your Company
Every person on your team must have the right information and tools to implement the Entrepreneurial Operating System® (EOS) purely throughout your organization. With the books in the Traction Library, your entire company – from leadership to management to employees – will understand their role and be better equipped to help your company succeed.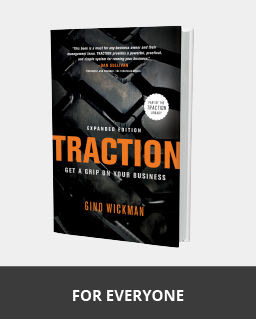 Traction: Get a Grip on Your Business
Inside Traction®, you'll learn the secrets of strengthening the Six Key Components™ of your business. You'll discover simple yet powerful ways to run your company that will give you and your leadership team more focus, more growth, and more enjoyment.
Based on years of real-world implementation in thousands of companies, the Entrepreneurial Operating System is a practical method for achieving the business success you have always envisioned. 
Rocket Fuel: The One Essential Combination
by Gino Wickman & Mark C. Winters
Rocket Fuel details the integral roles of the Visionary and Integrator and explains how an effective relationship between the two can thrive. You'll also get advice to help Visionary-minded and Integrator-minded individuals find one another. When these two people come together to share their natural talents and innate skill sets, they have the power to reach new heights for virtually any company or organization.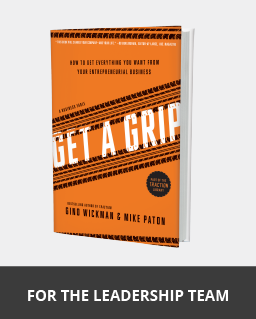 Get a Grip: An Entrepreneurial Fable
by Gino Wickman & Mike Paton
Filled with familiar situations, real-world characters and detailed, fully-applied tools, Get A Grip vividly illustrates the right way to implement EOS® in an enjoyable fable format, making it easy for you to translate this story into results for your own business.
by Gino Wickman and René Boer
Studies have repeatedly shown that the majority of employees are disengaged at work—but it doesn't have to be this way. Often, the difference between a group of indifferent employees and a fully engaged team comes down to one simple thing—a great boss. How to Be a Great Boss presents a straightforward, practical approach to help bosses at all levels of an organization get the most from their people.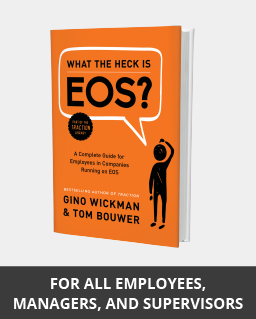 by Gino Wickman & Tom Bouwer
Designed to engage employees in the EOS process and tools, What the Heck is EOS? uses simple, straightforward language and provides questions about each tool that managers and employees can use in creating more ownership and buy-in at the staff level. After reading this book, employees will not only have a better understanding of EOS, but they will be more engaged, taking an active role in helping achieve your company's vision.
Get Your Business Laser Focused Today.
This book is a must for any business owner and their management team. TRACTION provides a powerful, practical, and simple system for running your business.
Contrary to popular belief, it takes not one but two entrepreneurs to build a great company, and they have dramatically different roles. In this brilliant book, Gino and Mark explain the vital importance of having both a Visionary and an Integrator—and show how that relationship can provide the "rocket fuel" your company needs to achieve its full potential.
"TRACTION is far and away the most potent and useful approach I've ever seen for running a successful company. The content is bulletproof! You have to read this book."